Antique 24pt Auroral. Cleveland Tpfy. Ornamented Face Metal Type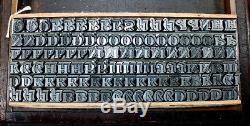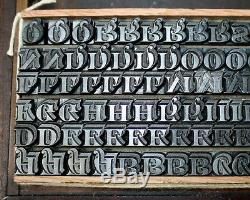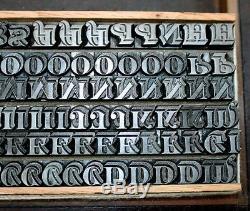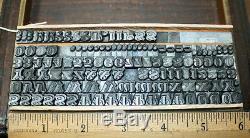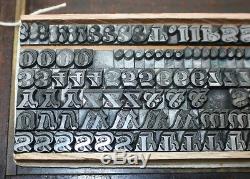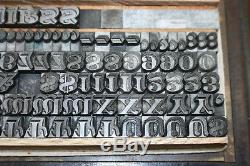 This is USED metal printing type for letterpress printing. ID: The is an Antique font of 24pt Auroral, an beautiful Ornamented Face cast by the Cleveland Tpfy in the 19th C. With some variant caps; M, N, W.
Font includes caps, figures & points. The font's exact contents can be seen in the pics. This is hard foundry-cast type. But as with all fonts with fine shadow lines, the fine lines go first. Most of the font is very crisp, but there is only one usable P.
I can cut another using one of the R's if the purchaser requests. A long time ago, a previous owner did the same thing see pic no. It's not a perfect match, but would be very hard to notice in mass. Or I can try to recut the shadow lines on one of the worn P's. Still, there are no missing characters.
The lines of type are the standard 6 long. Will combine other fonts [to a point] at no additional shpg. A very good used antique font, which has seen plenty of use, but has plenty more left in it. Overall, it's in very usable condition. Importantly, wear is quite even.
Font is not hammered, beat up or nicked on edges. There are some worn sorts, but they are too rare to dump so they are included. Would grade this font 7.5/10. With one more good P, it would be 8.5/10. When I grade used type.
I figure that a 5/10 is the lowest usable grade. A 9.5/10 would be still crisp and largely uninked. + + + + + + + + + +. + + + + + + + + +.
Most of what I list is not my own, it's listed for friends. That being said, I still have a few small fonts from my many years of working together with Theo Rehak at his Dale Guild Tpfy. And a few new types that are not yet fonted. I sell old and new types, type-founders' artifacts, type-cabinets & cases, strip material including new brass rule & new 1/2 pt. Copper for ledding or spaces and other letterpress things from my.
Aside from type, I will be listing books on printing, type specimens, private press books & ephemera, fine printing, typography, wood engraving, DePol wood engravings [and a few DePol blocks], early printed leaves, books about books, books on illuminated manuscripts and facsimiles, antiquarian books from the UK & the US, and the literature & history of the Western church. I really do appreciate it. Letterpress, font, metal type, lead, foundry type, movable type, montype, matrices, punches, Barth, pivotal, hand-mold, american type founders, atf, bb&s. Inland, Keystone, Farmer, Bruce, Conner, Mackellar, Boston, Dickenson, Marder Luse, Cleveland.
Gutenberg, goudy, hammer, koch, blackletter, B-42,, oldstyle, italic. Uncial, initials, borders, ornaments, fleurons. 19th century, fine printing, private press, type founder's tools, bookbinder's tools, hot stamping. The item "Antique 24pt Auroral. Ornamented Face Metal Type" is in sale since Saturday, July 21, 2018.
This item is in the category "Business & Industrial\Printing & Graphic Arts\Printing & Graphic Essentials\Type, Cuts & Printing Blocks". The seller is "acw" and is located in Fairfield, Connecticut. This item can be shipped to United States, all countries in Europe, Canada, Mexico, Japan, Australia.
Brand: Letterpress
Metal Type: Foundry-cast