12 Pt ATF Wedding Text Only Set over 2500 pieces Over 8 lbs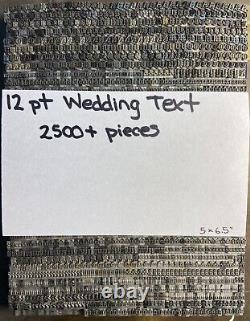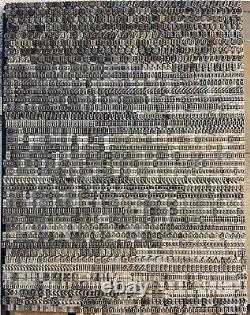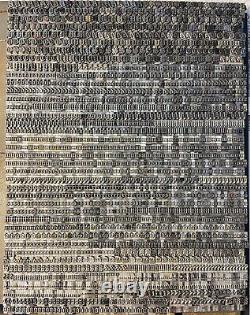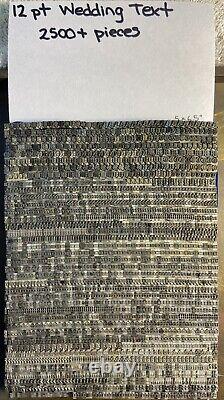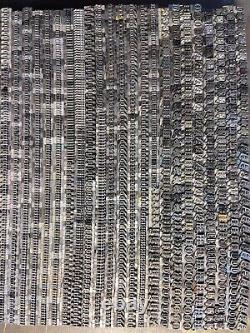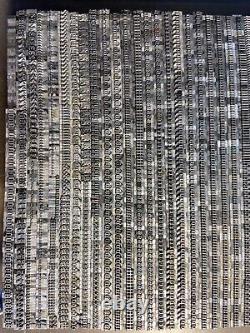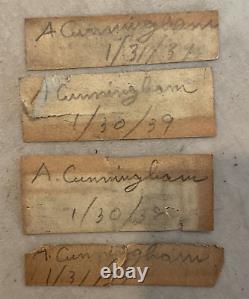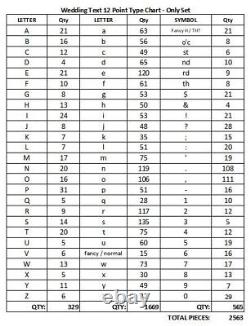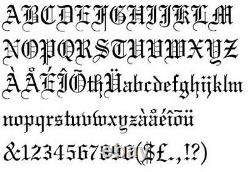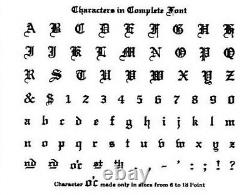 12 Pt ATF Wedding Text - Only Set over 2500 pieces - DESCRIPTION BELOW. Put all of the different items in your cart BEFORE paying, and then. RETURN NOTE ON TYPE SETS. You should be able to un-tape just the top cardboard so you can see the complete set without risking anything falling out or apart.
Anything rearranged or changed is not eligible for return. DESCRIPTION Only Set : There are roughly 2563 numbers/letters/characters in this set (in photos, please see letter chart for reference). There are roughly 42 extra quads/spacers in this set to square it. We found a few little pieces of paper in the bottom of this case that read A. Cunningham 1/30/39 and 1/31/39 and wanted to include a photo.
Our guess is that is how old this set of type is! PLEASE NOTE - SET SPECIFIC INFORMATION : Many of these look completely unused or barely used. Most of these pieces look completely unused, we also have the "mystery" letter, after a lot of back and forth, we are torn between it being a Th or a fancy H depending on what example of wedding text you look at. It is located at the end of the lowercase letters. There are also two different lower case "v" if you look at the photos.
There are 4 of the "fancy" or older ones, and 11 of the standard ones, again, it depends on what example of wedding text you look at. We will include the two examples of wedding text we have used to build this set.
The top will be marked for easier opening. OPEN WITH CAUTION or you will have a pile of type on your floor. Please see photos for type condition, these were all used previously so there may be flaws, corrosion (type lice), ink or other imperfections. We MAY add a random number of spacers to make this set as square as possible. Please be aware that working with this many letters we can make mistakes, but we are doing our best!
Based on research, ATF Wedding Text (Morris Benton) was designed and created in 1901. All of the type in this listing comes from the printing press that was originally located at Redwood High School in Larkspur, California. We are unsure how many decades the high school had this press or the type, but we believe it dates back to the early 1900s. We are slowly separating out sets of type for sale.
Please see photos for closer details and overall condition. PLEASE ask questions - we are happy to provide additional information/photos upon request.
Once an item is listed in our STORE, we will generally (but not always) entertain reasonable offers. Unless listed as new/unused, some or all of the items may be faulty or damaged. We will list details as accurately as possible but things can be missed. All items are from a smoke free environment unless otherwise indicated. If you are outside the United States.