Craftsman Superior 6.5 x 10 letterpress Rollers and trucks no press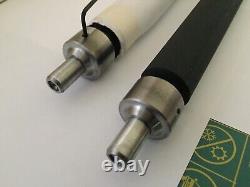 6.5x10, 6.5 x 10. 6.5x10 6.5 x 10.
Made with new cores and trucks [NO PRESS]. These rollers are made better than originals for high quality printing using old led, wood or new polymer plates.
These are Hi-tech rollers for a low-tech letterpress. They are made from Rubber. Only order rollers designed for your press they are all different, Check my store. Any question send a message. I have most letterpress rollers from around the world. They are not all listed.