Digital Factory Version 11 OKI PRO Edition RIP Software by CADlink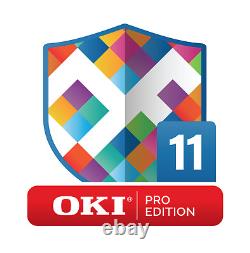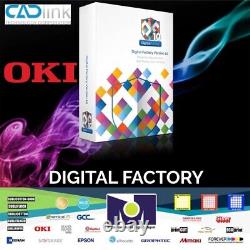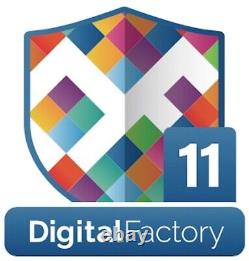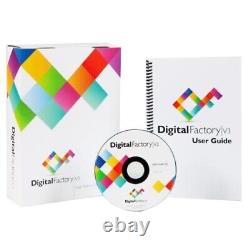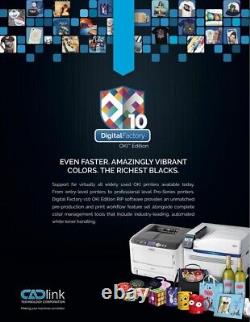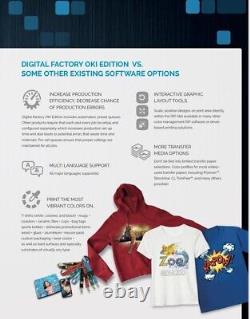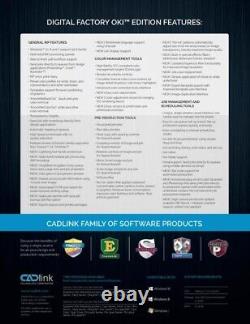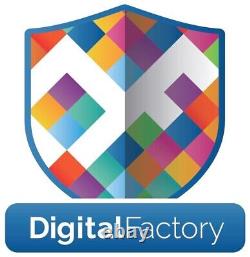 CADLink Digital Factory Version 11 OKI PRO Edition RIP Software. Digital Factory OKIT Pro Edition. Supports the following printers: C3xx Series, C6xx, C7xx, C8xx Series, C843 Series, C8432WT, Pro 7411WT, Pro 9420WT, C911, C931, C941, C942, Pro 9431 Series, Pro 9541 Series, Pro 9542 Series, Pro 9541WT, and PRO 1040/1050 Series. Support for virtually all widely used OKI printers available today. LEADING EDGE COLOR MANAGEMENT AND PRODUCTION WORKFLOW TECHNOLOGY. OUTSTANDING RICH, VIBRANT, COLOR-ACCURATE PRINTING. Pre-configured, variable"No Ink" production queues included for fabric printing.
Makes better, softer "feel" of graphics on the garment. Improves color fastness without an impact on quality of the printed image. Also provides exceptional print cost savings with optimized toner usage. Precision printing provides the sharpest image details factory-created color profiles included for an assortment of transfer media and substrates. Print vivid colors on a variety of substrates both textile and non- textile.
DIGITAL FACTORY OKI EDITION VS. SOME OTHER EXISTING SOFTWARE OPTIONS. INCREASE PRODUCTION EFFICIENCY, DECREASE CHANCE OF PRODUCTION ERRORS. Digital Factory OKI Edition includes automated, preset queues. Other products require that each and every job be setup and configured separately which increases production set up.
Time and also leads to potential errors that waste time and materials. Pre-set queues ensure that proper settings are maintained for all jobs. Scale, position designs on print area directly within the RIP. Not available in many other color management RIP software or driver- based printing solutions. Don't be tied into limited transfer paper selections.
Color profiles for most widely- used transfer papers including (ForeverTM, Shockline, CL TrimFreeTM, and many others possible). PRINT THE MOST VIBRANT COLORS ON..
T-shirts (white, colored, and black). As well as hard surfaces and specialty substrates of virtually any type. DIGITAL FACTORY OKITM EDITION FEATURES. Adjust size of no-ink areas based on image transparency. WindowsTM 10, 8 and 7 support (32 & 64 bit).
Send jobs directly to queues from design applications (PhotoShopTM, CorelTM, IllustratorTM). High fidelity, ICC compliant color management engine (ColorLogic). Preset color profiles for white, black, and colored fabrics and other substrates. Advanced color correction tools interface.
Templates support for exact positioning of graphics. "KnockMeBlackOut", black and grey color removal.
JOB MANAGEMENT AND SCHEDULING TOOLS. "KnockMeColorOut", white and other color removal. Unique, single window visual interface, one central easy to manage hub for all jobs.
Send job with underbase directly from design applications. Easy to use queue set-up wizard. Set up production queues quickly and easily.
Auto-scheduling or manual scheduling of jobs. High Speed printmodes with no quality reduction. Multi-copy with spacing controls (In-Queue feature). On-the-fly job prioritization using simple drag and drop. Multiple brands of transfer media supported incl. Cropping controls of image and job (In-Queue feature). Job archiving, history, print status and job log.
Rotation controls of image and job (In-Queue feature). Mirror, invert image and job (In-Queue feature).
Scale image and job to any size (In-Queue feature). Send jobs directly to queues using mobile devices via Gmail. No cumbersome job preparation required. No-ink' option that applies rasterized customizable pattern options (holes, stripes) to graphics.
Reduces toner consumption, improves color fastness and softens. Este producto es una versión de EE. / Norteamérica y es compatible con las impresoras de la serie OKI WT solo para la impresión con tóner blanco y NO es compatible con las impresoras OKI que se han convertido a tóner blanco. "This product is US/North American version and supports OKI WT Series printers only for White toner printing and does NOT support OKI printers that have been converted to White toner".