Original Konica KM512 MN 14PL Printhead Konica Minolta 512 / 14pl Print Head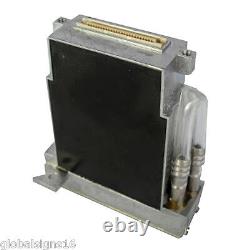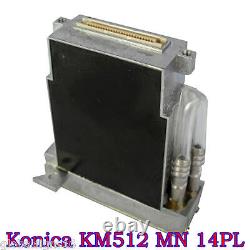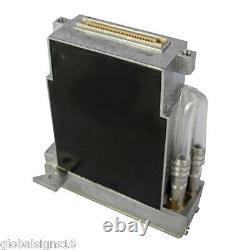 Konica Minolta 512/14pl(KM512MN) Printhead. This is the Konica Minolta KM512 MN print head. It is a robust, shear mode, piezo on-demand print head that is usable in both binary and 4 level greyscale mode, providing variable drop size and higher print quality without the use of additional print heads. The Konica Minolta KM512 MN print head has 512 nozzles with a droplet size of 14 pico litre and a native resolution of 360 dpi. It is compatible with oil based, solvent and UV inks.
This print head is also known as the Konica Minolta KM512 MNX. This is Konica original print head and it includes the Head ID and the necessary waveform information. Anapurna M, :Anapurna M4f, :Anapurna Mv, :Anapurna Mw Anhui LiYu: Anhui Liyu Apollo PTP-KL, Maxima PZ-KM, Maxima PZ3204-KM, Maxima PZ3206-KM, Maxima PZ3208-KM DGI: SaturnJet ST-1806 / OrionJet OR-1806 JHF Vista: Vista3306 / H8 3304FN / H8 3306FNS HP DesignJet: designjet 9000s. DesignJet 10000s MYJET: Myjet LB3208KM42 / LE3208KM42 / WB3208KM42 / WC3208KM14 Seiko Color Painter: Seiko ColorPainter 64S / ColorPainter 100S (Can't be used with V-64S).
Other Brand: Allwin C8, Flora HJ 3200Turbo, Rodin K4320-A / K4320-B / K6164-B / K8320-B / k6320-A, Sun Neo Da Vinci, Skynet PC-series / HS-series, DYSS Apollo PTP3204-KM, Taimes T5 / T7, Dilli Neo Titan UVT-1606S / Neo Titan UVT-1606W, OCE CS 6060 / CS 6100. The KM512 MN 14PL is not suitable for the varnish or white ink on the Agfa :Anapurna Mv and :Anapurna Mw printers. Please order KM512LN (PRH-KON-005) if you need print heads for varnish (Mv) of white ink (Mw). 256 nozzles×2 rows = 512.
M =(141um 2 rows). 2.6"1.6"2.8 (674072mm)(WDH).
The printhead is required to be installed by professional persons. Once the package is delivered, it is the customer's responsibility to check the package for damage.
Please seriously pay attention on information of printhead model while purchasing from us. Once received your item, please inspect if the printhead matches up with the model you required.