Monotype bullet casting metal 51+ lbs. / Harder than Linotype metal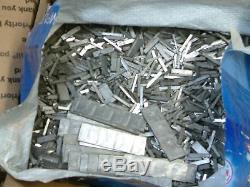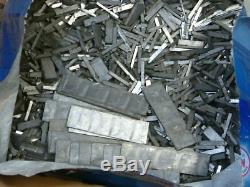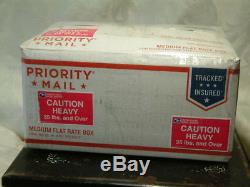 OFFERED: Fifty-one plus (51+) pounds of Letterpress Monotype metal. This is an excellent choice if your interested in casting a harder bullet. Linotype metal is generally accepted gold standard for all around use bullet casting material. If your interested in a harder bullet material to cast with, this is what you have been looking for. This material can be introduced to harden Linotype metal that you may already have, but would like to tweak the hardness.
You can also use this offering exclusively to cast bullets as well, your choice. The majority of this offering consists of Monotype cast (retired) letterpress type approx. 95% the remaining 5% is Monotype cast border or strip material, all which is generally the same alloy formulation. Being a letterpress printer and able to differentiate between Linotype, Monotype and Hard Foundry, I can assure you that this offering only consists of Monotype metal only.
Please be wary of scrap dealers that mix both Monotype cast type and Hard Foundry cast type and sell as foundry type. It does look similar to the untrained eye, however, as you can see in the supplied facts below, showing the formulation, melting points and casting temperatures. The two alloy formulations are different. If you looking for consistent results from your casting you want to use consistent material.
If you want to try don't delay as they generally don't last long. For the benefit of those who may be interested in specifics of what makes the casting material harder as well as casting temperatures and hardness info I have listed them below.
The principal metals composing all alloys used in type casting machines today are lead, antimony and tin. Although other metals are occasionally present they rarely exceed one percent of the mixture, and are introduced only to slightly modify the main elements. Lead is the base metal to which the other elements are added, and when properly compounded form an alloy indispensable to one of the largest and most widely distributed industries in the world. Lead is produced in large quantities in the United States, particularly in the Middle West. Antimony is found only in very lean ore deposits in this country, and is, therefore, almost exclusively an imported metal.
Antimony ores are found most plentiful in both China and Japan. Tin is one of the most valuable metals, both as to properties and cost. Its ores are not found in quantity in the United States, and therefore all tin is imported, either as ore or in pigs. Function of Elements in the Alloys. Lead alone is too soft, and lacks many of the valuable properties needed for type purposes. Therefore, the metallurgist has devised an ally which is suitable, by adding antimony and tin in proper proportions, depending on the requirements of the service to be met. Antimony has the valuable property of giving both hardness and fluidity to lead. Hardness when cold, fluidity when molten.
Not only this but also the property of filling out the mold and expanding just as solidification occurs. The alloy contracts after solidifying just as any other metal or alloy, but at the instant of passing from the liquid to the solid it fills all the detail of the mold, and after solidifying draws away, retaining a perfect reproduction. This is a most remarkable and valuable property, and very essential to the alloy.
In comparison, let us consider a lead and tin alloy, as found in solder, and we find none of the valuable type properties. Next to antimony, bismuth alone has this power, but is prohibitive in price, so there is no feasible substitute for antimony. Tin is the third and last principal element in type alloys, its functions being frequently much confused with those of antimony. Tin does not reduce the melting point of the alloy, as is usually believed, when considering stereotype, line-slug and unitype metals. The alloys freeze at approximately 475 F in all cases, whether tin is present or not.
Tin does add very much to the fluidity of the alloy, however, and permits the work to be done at much lower temperatures and with much more perfect results. It is for this reason that it is often regarded as having reduced the melting point, whereas it has simply increased fluidity when molten, just as certain oils thin inks. Tin causes a much slower setting of the alloy, and an excess often becomes a detriment for this reason. This is occasionally noticed in line-slug machines where squirts and hollow slugs follow an excess. Tin gives body to the metal, adding considerably to its toughness.
Lead, when pure, melts at 621 F. And when 1 per cent of antimony is alloyed with 99 percent lead the melting point is reduced to below 621 F. Two percent of antimony causes a still further reduction, which continues until the alloy contains approximately from 12 to 13 percent antimony, balance lead, melting at 475 F. From this point on, by increasing antimony, the point of complete melting increasing with each percent instead of decreasing. Thus, we see that there is a certain percentage having the lowest melting point, which is approximately 12 percent.
This point is called the eutectic point, meaning point of lowest melting temperature. All of the above was of course written with letterpress printers in mind, however the same principles involved are key to casting quality bullets.
Hope you find this information valuable. The information below was gathered from various sources which I also believe will be helpful to understanding the differences between the various alloy formulations available for casting both letterpress type and bullets. This offering is for Monotype metal, which is shown below. The other alloys shown are for comparison purposes. Casting temperature 518 F to 545 F. Hardness /Brinell 21 - 22. Liquid at 509 F to 527 F. Casting temperature 680 F to 720 F. Casting temperature 788 F to 806 F. Please do hesitate to contact me if you have any questions in regards to this offering. The item "Monotype bullet casting metal 51+ lbs. / Harder than Linotype metal" is in sale since Saturday, September 8, 2018.
This item is in the category "Business & Industrial\Printing & Graphic Arts\Printing & Graphic Essentials\Type, Cuts & Printing Blocks". The seller is "pjletterpress" and is located in Waterford, Pennsylvania. This item can be shipped to United States, Canada, United Kingdom, Denmark, Romania, Slovakia, Bulgaria, Czech republic, Finland, Hungary, Latvia, Lithuania, Malta, Estonia, Australia, Greece, Portugal, Cyprus, Slovenia, Japan, China, Sweden, South Korea, Indonesia, Taiwan, Thailand, Belgium, France, Hong Kong, Ireland, Netherlands, Poland, Spain, Italy, Germany, Austria, Israel, Mexico, New Zealand, Philippines, Singapore, Switzerland, Norway, Saudi arabia, Ukraine, United arab emirates, Qatar, Kuwait, Bahrain, Croatia, Malaysia.