PANTONE Color Bridge. Solid to Process. PMS CMYK Color Conversion. COATED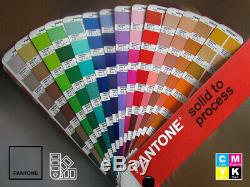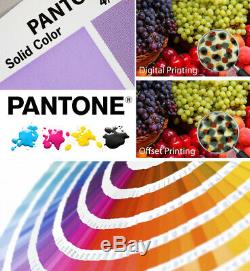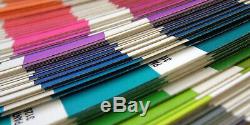 Solid to Process Coated Formula Guide. One of the most important aspects of label packaging and brand integrity is color consistency. The way your colors appear across all your labels, advertising, and marketing materials is critical to consumer recognition of your brand and products.
Color shifts within a label run and across multiple orders can make your packaging seem cheap, diminishing your product's shelf appeal. This relatively poor retail presence can potentially contribute to the belief that the same lack of concern evident in the packaging appearance translates to the packaged products themselves.
Pantone Color Matching System is a proprietary color system developed in the late 1950s to early 1960s that utilizes a special brand of inks that allow for exact color matching. The obvious benefit of utilizing Pantone, or "PMS", colors is tight control of the appearance of color on your printed labels. However, there are three common misconceptions within the design community which need to be considered.
4 color process printing, commonly known as CMYK, is the method of printing Cyan, Magenta, Yellow, and Black to create the range of colors you see on the majority of printed materials from magazines to labels. CMYK process is by far the most widely used method for printing color. Look through a magnifying glass or "loupe" at just about anything printed and you'll see what you thought was a solid color is something else. For example, red is actually tiny magenta and yellow dots next to each other. Your eyes cannot discern between the dots and you see the color red.
Pantone colors are precisely pre-mixed and printed as solid colors rather than combining CMYK values. Look at a PMS color under a magnifying glass and you'll only see the solid color. This is the reason color matching is infinitely more accurate when using the Pantone system. On the printing press, a specific Pantone color is added to a print station, and no mixing or adjustment needs to be made to fine tune the appearance of the color. Different presses also produce different dots quality, different distances from each other, using different inks. Digital printing presses print with inks that do not absorb into the label facestock as much as flexographic printing presses. These seemingly minor differences create variation across different print companies and across different printing presses within a single company. Keep in mind that all swatch books are printed on bright white paper, and show what the color will look like on either coated or uncoated paper. Coated paper refers to a gloss coating on the paper which prevents the ink from soaking in or being absorbed, keeping it closer to the full bright color of a given swatch. Uncoated paper, like the kind you run through a home or office printer, is highly absorptive and will lighten, darken, or generally mute color. Even though the color builds for a PMS spot color are identical for coated or uncoated stock, the difference is striking when viewed in a swatch book. Keep that in mind when considering your label facestock and communicate with your label printer about your intentions for your design.
And designers, keep in mind that while you can select coated or uncoated swatches in your design software, the resulting display is a complete simulation and you can rarely trust your screen. Pantone colors are described by their allocated number (typically referred toas, for example,'PMS 130').
PMS colors are almost always used in branding and have even found their way into government legislation (to describe the colors of flags). Pantone SOLID TO PROCESS GUIDE displays 1,089 solid PANTONE colors, each shown alongside its closest possible CMYK four-color process match. Ink mixing formulas in parts. Each color identified with a distinct PANTONE Number or name.
Colors bleed for ease and accuracy in checking colors. Broad selection of market-driven colors, for practically unlimited creativity. Substrate paper stock matches popular print specifications. Compatible with todays digital workflows colors easily updated in leading design applications.
All new colors are printed using a uniform ink film thickness making them easily matched on press. Eliminates guesswork in color selection and verification. Easy to communicate colors by distinct number or name. Shows the effect of coated stock on each color.
PANTONE Colors are internationally recognized for color communication and are globally available. System supported by worldwide network of PANTONE Licensees. 1,089 solid Pantone Colors with process color matches on coated stock. CMYK screen tint percentages are printed under each color. All screen values fall within commercials printing tolerances to ensure achievable colors.
Produced under ISO 9002 specs to ensure maximum accuracy. Immaculate inside with only some wear signs on the covers. This guide was used only a couple of times and it has been well kept in a low light environment so the colors have not faded and look as vibrant as when the guide was new. The item "PANTONE Color Bridge.
COATED" is in sale since Thursday, May 30, 2019. This item is in the category "Business & Industrial\Printing & Graphic Arts\Printing & Graphic Essentials\Color Guides & Pantone". The seller is "gabriekalac-0" and is located in Miami Beach, Florida. This item can be shipped worldwide.
Model: Pantone Bridge - Solid to Process Color Guide
Custom Bundle: No
Material: Coated Stock
Type: Color Guide
MPN: Does Not Apply
Brand: PANTONE