CorelDraw 8 for Windows 95 & NT 4.0 Graphics Suite Full Version Bundle Withkey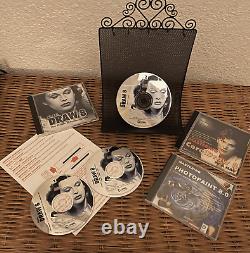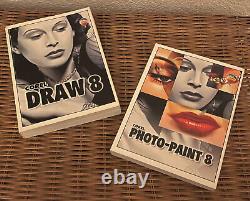 CORELDRAW 8 - FOR WINDOWS 95 & NT 4.0 GRAPHICS SUITE FULL VERSION BUNDLE W/INSTALL SN. (1) 1 Full version CorelDraw 8 Graphic Suite 3 disc bundle including installation serial number card. Included in this is Disc 1: installation disc for CorelDraw 8, Corel Photo-Paint & CorelDream 3D 8. Also included is two learning manuals, one for the CorelDraw Graphics and one for Corel Photo-Paint and two Compact Discs for learning these programs visually.
Manuals are intact with no pages torn out and no markings inside. These items are in very good condition. The three discs included show minor scratches that will not hinder with installation. The photos included display the exact items that you will receive, no box is included. I have used CorelDraw for many years now and I find it to be a wonderful vector graphics software.
I currently use CorelDraw X7. Questions are welcomed and answered promptly. PLEASE DON'T HESITATE TO CONTACT ME. A fellow soldier overeacted and hit me with a negative mark for really no reason. Failure is the result of not trying...
Robert (MOS 31C20V9) US Army Cold War and Gulf War Veteran 1979-92.