Glowforge Plus 3D Laser Printer The Fast, Easy, and Powerful Tool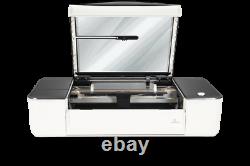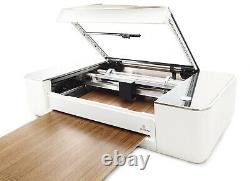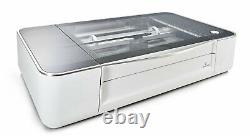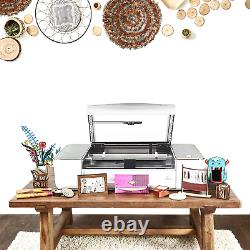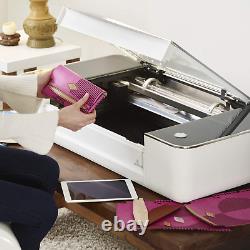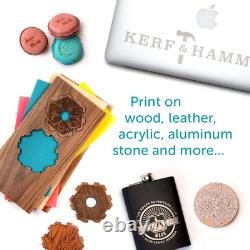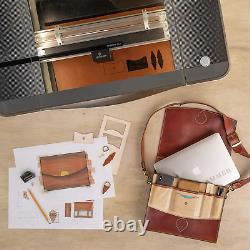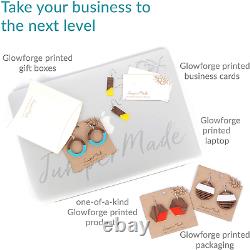 YOUR IDEA, IN YOUR HANDS, IN MINUTES Push the button and the powerful 40 watt laser creates meaningful gifts for your friends, unique products to sell, or something personalized just for you. LASER PRECISION with DOZENS OF MATERIALS Precise to the width of a human hair. Carve up to 1/2" deep, 11" tall, and 19.5 wide, at over 1,300 lines per inch. Engrave or print beautiful and useful products from wood, leather, paper, fabric, acrylic, glass, metal, cardboard...
SAFE FOR HOME AND SCHOOL The only CDRH Class 1 laser cutter and engraver. Independently safety tested to UL, CE, FDA, and FCC standards for peace of mind. What can you print with a Glowforge? Glowforge exterior (Pro, Plus, and Basic): 38 x 20.75 x 8.25 (965mm x 527mm x 210mm).
Maximum material depth: 18 (455 mm) for Basic and Plus; unlimited for Pro. Maximum material width: 20 (515 mm). 11 (279 mm) deep and 19.5 (495 mm) wide. Maximum material height: 2 (50mm). Maximum material height with tray: 0.5 (13mm).
Can safely print on any laser-compatible material, with examples below. Glowforge recommends Proofgrade materials for automatic settings and perfect results. Easy and powerful interface will have you printing in minutes. Web interface works on Mac, PC, Linux, and many mobile devices (internet required). Compatible with JPG, PNG, SVG, PDF, and other file formats. Glowforge Premium includes support for DXF files. Drag-and-drop layout with live camera preview to position designs on the material. Automatically scan drawings and print without design software. Catalog of premium, customizable, ready-to-print designs. When used with Proofgrade materials, automatically determines settings for perfect cutting and engraving. Wide Angle Camera Mounted on the lid, provides a view of the entire printable area, accurate within 0.25 (6mm). Macro Camera Mounted on the head, provides extreme up-close information for autofocus, accurate within 0.004 (0.1mm). Exquisitely precise low-power laser measurement scans the surface of the material to determine the exact height. Completely Internal Lens moves internally up and down inside the head to print on materials up to 0.5 (13mm) thick.
Multipass Focus can be shifted between engrave passes, allowing detailed depth engraves. Manual focus option the laser can be focused at a precise height to experiment with a range of techniques.
Dual high-efficiency internal LED strips give your work broad illumination for a wide angle view. Headlights under the lid give point illumination for precise precisioning.
CO2 Laser Custom CO2 glass laser tube capable of continuous operation at 10,600 nm; rated at 45 watts for Pro and 40 watts for Plus and Basic. Fixed Alignment Factory calibrated optical system does not require any alignment by the user. Sealed Optics Enclosed optical path with cleanable and replaceable windows protects the laser optics to avoid replacement or realignment. Case High modulus injection molded plastic. Linear System Custom extruded aluminum linear rails with belt driven v-wheel carrier.
Motion Dual hybrid stepper Y axis; single hybrid stepper X axis. Cooling Closed loop self contained internal cooling. Air Assist Internal air assist with no external compressor hookup required. Recommended Operating Temperature: 60F-75F (16C-24C) Basic and Plus; 60F-81F (16C-27C) Pro. Wi-Fi required (2.4 GHz b/g/n and WPA2, WPA, WEP, or open). Ventilation with either the Glowforge Compact Filter, or an open-able window within 8 feet. 110/220 VAC, 50 or 60 HZ outlet. Glowforge Basic, Plus, and Pro have 800W peak power consumption. Compact Filter has an additional 350W peak power consumption.
Precision power settings allow enough control to draw lines on copy paper. 3D engrave settings carve detailed surfaces. Positioning precision to 0.001 (0.025mm).
Engraving up to 1355 DPI. Introducing Glowforge - The 3D Laser Printer. Update- it keeps getting better- The perfect laser for my home business.
I have been read watching and saving a while now for a laser cutter and engraver. After seeking advise from others landed on a glowforge.
It arrived quickly and literally was set up and PRINTING my first project in under 30 minutes. Its heavy- you will need someone to help you lift it to set it up. I vent mine outside my window- also super easy and co es with everything you need to get started. Being stuck at home right now I cant tell you how much fun my family and I are having with the machine. We are now making hooks for medical staff to help with pain from wearing elastic face masks. I have also already launched my custom sign business and will have this machine paid off within 2 months! The software is so user friendly! Love love love my new Glowforge! I have now since paid off my machine plus have built a solid business for myself. 5.0 out of 5 stars. Outstanding Laser Cutter for Woodworking, Leatherworking, Cosplay, etc. Reviewed in the United States on September. The 30,000 ft view in this review is: Glowforge is amazing. If youre into making things and youre on the fence about getting one, just do it. I have the basic model. I like the extra power of the basic. Some folks who use the Glowforge for cutting/engraving large signs DO think the slot is worth the extra though! I own a 3D printer, and a workshop full of woodworking tools.
I bought the Glowforge as a cherry on top accessory for my woodworking, thinking Id use it to engrave various wood parts when working on furniture. But Ive wound up using it for far more than just that. In the end, nothing beats the precision and versatility of the Glowforge. I have used it to cut and engrave wood.
To cut and engrave Plexiglass!!! This is amazing on the Glowforge! Ive developed a whole system for cutting dungeon tiles for D&D on the Glowforge. Ive engraved several wood projects.
Ive cut plexiglass with it. Ive done leatherworking on it. Heres some examples of my work. Product iteration is incredibly fast and fun. Reviewed in the United States on August 9, 2021.
Today I decided to build a Raspberry Pi ad-blocker for my home wifi network. Building the Pi was easy, modelling the Pi and Router in Fusion360 was a little more of a challenge. With the GlowForge I was able to test out sizes, tolerances and clearances using cardstock before moving on to the final materials. The GlowForge makes the minor mistakes I made in measurements a worry-free process because of the flexibility Im afforded by being able to use things like cardstock to test with.
The operations compared to 3d printing and milling are far quicker to iterate and for that, this piece of equipment took no time at all to build. I can't fully express my satisfaction with this product. Do I need additional software to print with a Glowforge? You can use your Glowforge from a Mac, PC, tablet, and smartphone, using our simple, powerful, and free web interface. To prepare your project, you can choose to use any software that saves a PDF (Adobe Illustrator, Inkscape, CorelDraw, Adobe Photoshop, GIMP, Autodesk 360, and Sketchup and more).
Glowforge can print JPG, PNG, SVG, PDF, and other file formats. To print a file, just drag-and-drop it directly on our app, and then adjust the preview to your liking.
How quickly can I begin printing once my Glowforge arrives? Believe it or not - most of our customers tell us it takes them less than 30 minutes to get their printer out of the box, plug it in, set it up, and finish their first print! What materials can Glowforge cut or engrave? Glowforge opens up a world of materials. While traditional 3D printers are confined to layers of plastic, Glowforge is completely different.
Delve into hundreds of beautiful materials like leather, acrylic, hardwood, fabric - even chocolate! Glowforge can cut wood, fabric, leather, paper, Plexiglas (acrylic), Delrin (acetal), mylar, rubber, Corian, foods, and more. Glowforge can also engrave all of the above plus glass, coated metal, marble, anodized aluminum, titanium, some phones, tablets, and laptops, and more laser safe materials. We offer the best prices around on high quality products. Our E-store includes media such as books, movies, music and games while offering electronics, toys, sporting apparel, clothing, tools, general home, garden items and more.
We are always working hard to ensure your package arrives as soon as possible. We do not accept P.
Please provide a physical address. We try our very best to make sure every customer is completely satisfied. If there's a problem, message us! We're happy to help. The item "Glowforge Plus 3D Laser Printer The Fast, Easy, and Powerful Tool" is in sale since Wednesday, October 27, 2021.
This item is in the category "Business & Industrial\Printing & Graphic Arts\Printing & Graphic Essentials\Software & Clipart". The seller is "vidnil2015" and is located in Tacoma, Washington. This item can be shipped to United States, all countries in Europe, Canada.
Type: 3D Printer
Item Weight: 113.8 pounds
Model: Glowforge Plus
Modified Item: No
Country/Region of Manufacture: United States
Printing Technology: Laser
Print media: Fabric
Compatible Devices: PC, Tablets
MPN: GF-ASM-00331
Printer Output: Monochrome
Color: White
Package Dimensions: 47 x 28 x 19 inches
Wattage: 40 watts
Manufacturer: Glowforge, Inc.