Hindi /Devanagari script Letterpress wooden printing type typography 273pc #LB40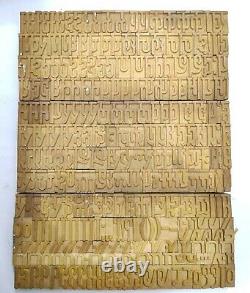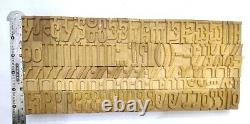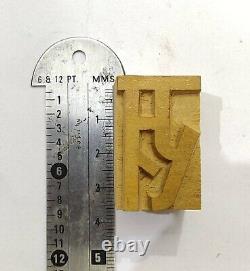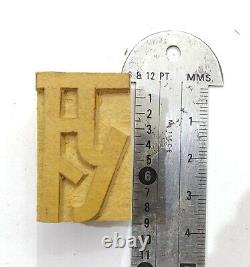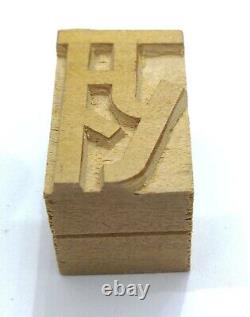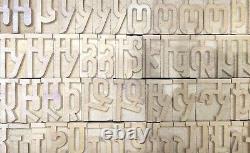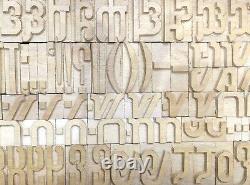 Vintage Hindi /Devanagari script Letterpress wooden printing type typography 273pieces, including Matras, 1/2 characters (usual in Hindi). 35 mm/ 1.37inches tall alphabets wooden type. Now Letterpress wooden types of Hindi/Devanagari are very scarce.
We have counted 273 pieces, we hope that we did not make any mistake counting, but you will see what you get on the close-up photos. Each character measures 35 mm/1.37inches. The height of the type/character is a standard size. Weight of all types are 1779 gram.
Hindi/ Devanagari: Hindi/ Devanagari is an abugida. Consonant letters have an inherent vowel sound. Combining vowel-symptoms and symptoms areconnected to the consonantto suggest that a specific vowel follows the consonant. Devanagari orthography isprimarily based totally on orthographic syllables: a syllableconsists of consonants' clusterswithout intervening vowel sounds plus any following vowels and diacritics. Consonant clusters areusually represented aspartly merged forms, known as conjuncts.
Prescript vowel-symptoms and symptoms arelocated to the left of a conjunct, instead of to the left of the consonantright away previous it. Phonetically, Hindi, likedifferent Indic languages, has4kinds of plosives, illustratedright here with thelabial stop:voiceless p, voiced b, aspirated p?
Itadditionally hasa fixed of retroflex consonants. These are allpictures done at a time within-side the orthography.
TheNagari blockincludes extra characters thandifferent Indo-Iranian language scripts, in partas it is a pivot script for transliterations ofother scripts. We have removed some dust but did no full cleaning. However, as you can see in the photos, the printing blocks are in good condition.
Please observe all photos for the condition of types/characters. Please be sure that we will carefully pack all types/characters.
So nothing will hurt the types/characters on transport. Model: Standard Height 0.918inches.