Pantone Cotton Passport FHIC200A Fashion & Interior Color Passport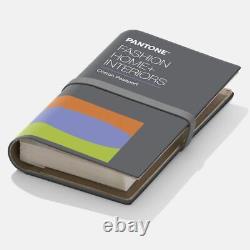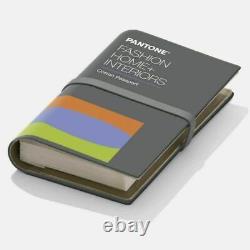 Please scroll down for Terms of Sale. Product is brand new and sealed. We are an Authorized Dealer. 315 New Colors just added! With this affordable, portable tool, you can bring all 2,625 Pantone Fashion, Home + Interiors (FHI) Colors wherever creativity takes you next. The Cotton Passport is the perfect size and format for designers and students to reference for inspiration and visualization anywhere - fabric stores, showrooms, client meetings, and mills. Easily and quickly see and select from the full range of FHI Colors on cotton. Compact and easy to carry. Accordion format displays all FHI Colors at a glance. Includes mask tool to isolate and view a single-color chip. Pantone Cotton Passport FHIC200A - Format. Single-volume cotton color reference in a portable, folio-style format. Each page features 65 - 0.6" x 0.4" cotton chips, affixed to non-optically brightened paper. Each chip can be isolated individually with the included white mask for more accurate color evaluation.
Accordion-style pages allow you to view 2,625 FHI Colors at once. Pantone Cotton Passport FHIC200A - Color.
Displays 2,625 FHI Colors, including the latest 315 market-driven, trend relevant colors. All Pantone Colors on cotton formulated for achievability and fastness.
Improved chromatic layout organizes all 2,625 FHI Colors by color family. Colors arranged in chromatic format, with an index providing numeric location for each color. Each color refers to a corresponding Pantone Swatch Card, the standard for color accuracy. Pantone Cotton Passport FHIC200A - Application. Use for designing textiles, apparel, soft home, and interiors products.
Use for color inspiration, specification, and spot-checking on the go. You will receive an invoice upon request.