Vintage 48 Point Cloister Bold Italic Type 227 pieces Set#2 of 6 Lowercase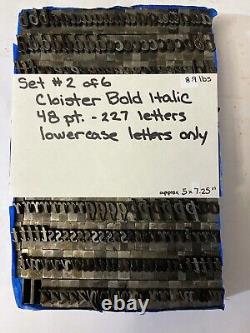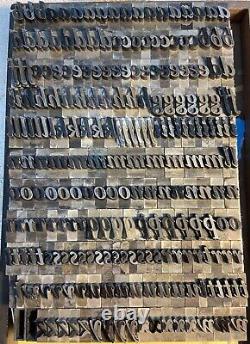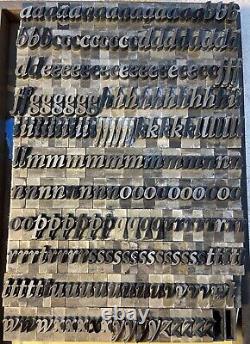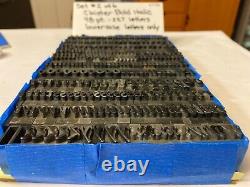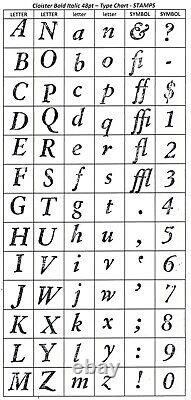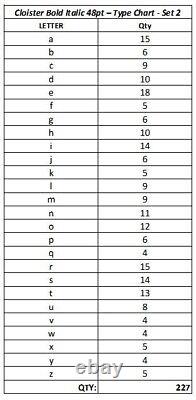 48 Pt Cloister Bold Light Italic Type - Set #2 of 6 - LOWERCASE LETTERS ONLY. We have COMPLETE sets of this type, but they are split into different sets (as noted in the listing x of 6) because they are HUGE. If you would like a complete set (all three sections that are listed separately), send a message and make an offer. Put all of the different items in your cart BEFORE paying, and then. RETURN NOTE ON TYPE SETS. You should be able to un-tape just the top cardboard so you can see the complete set without risking anything falling out or apart. Anything rearranged or changed is not eligible for return.
There are roughly 227 lowercase letters in this set (in photos, please see letter chart for reference and example sheet of the type). There are only SIX sets of this specific font in 48 point, we have no more of it, the six sets are listed separately as they differ slightly in how many of each piece they have.
We are listing uppercase letters, lowercase letters, and numbers/symbols as separate sets , but one of each of the three sets creates one complete set of this type/font. There MAY be a couple of extra quads in these sets, some do not have any quads. SET SPECIFIC NOTE : There is a photo of an example of each letter in a complete set that I hand stamped as I created the sets, sorry some are fuzzy. The top will be marked for easier opening.
OPEN WITH CAUTION or you will have a pile of type on your floor. Please see photos for type condition, these were all used previously so there may be flaws, ink or other imperfections.
We MAY add a random number of spacers to make this set as square as possible. Please be aware that working with this many letters we can make mistakes but we are doing our best! We will only be listing SIX sets for this font/type/size, be sure to look at ALL of the photos for the set information in each listing. Wikipedia: Cloister is a serif typeface designed by Morris Fuller Benton and published by American Type Founders (ATF). Cloister bold italic was released in 1915.
It is loosely based on the printing of Nicolas Jenson in Venice in the 1470s, in what is now called the "old style" of serif fonts. ATF presented it as an attractive but highly usable typeface, suitable for body and display use.
All of the type in this listing comes from the printing press that was originally located at Redwood High School in Larkspur, California. We are unsure how many decades the high school had this press or the type, but we believe it dates back to the early 1900s.
We are slowly separating out sets of type for sale. Please see photos for closer details and overall condition. PLEASE ask questions - we are happy to provide additional information/photos upon request. We will list details as accurately as possible, but things can be missed. All items are from a smoke free environment unless otherwise indicated.
If you are outside the United States.