Viny Sign Software for Cutter Plotter Arch Vectorize & logo VinylMaster LTR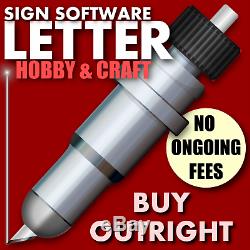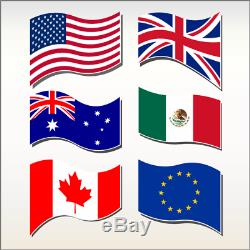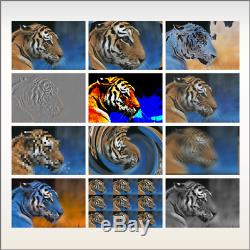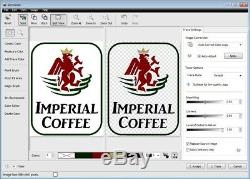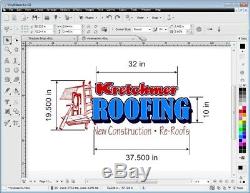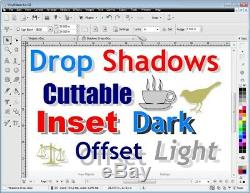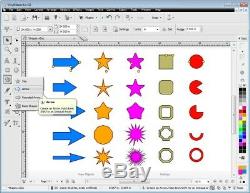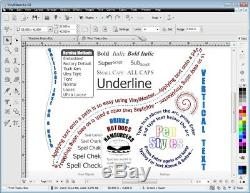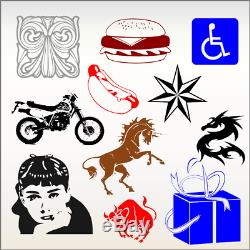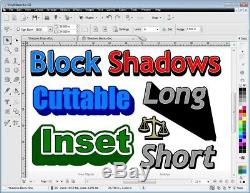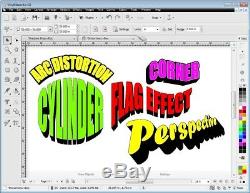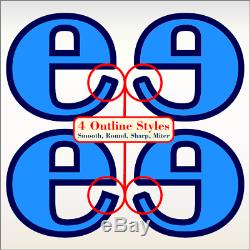 VinylMaster LTR is dedicated software for: Designing Excellent Vector Based Artwork Providing you with a Suite of Design Tools Easily laying out your Artwork and Designs Sending your Artwork to a Vinyl Cutter inc. Laser and ARMS Cutters, Engraver or Router Exporting your Artwork to a. Dxf Note: VinylMaster LTR does not include cut documents, please see VinylMaster PRO or above.
VinylMaster LTR includes the following tools and features. Vector effects Vectorizer for super accurate Tracing of images Image editing tools and special image effects Contour Cutting Wizard plus Print & Cut from two or more devices AI, EPS, PDF & SVG import/export inc.
Suite of general Text, Curve & Image tools and features Cutter/Printer support with over 5,000 direct drivers included 5,200 Fonts 10,000 Logos 3,600 Clipart plus much more! Over 500 powerful tools and features at your disposal 430+ Page Manual, Online FAQ, Knowledgebase plus more 200+ Lessons and Tutorials included at no charge Note: VinylMaster comes in different product levels. Please visit the product site (search "vinylmasterltr") to compare each level. And download the Free Demo.
Please allow up to 24 hours (usually much less) for your unlock code to be generated by Future Corporation in Australia (excluding weekends and public holidays). VinylMaster LTR is downloaded from its dedicated website in the United States (search "getvm vinylmaster downloads"). Note: You must have a PSN to download the software, see ordering above. Nothing at all, the downloads are exactly the same as the discs but allow you to install, activate and use VinylMaster without delay and there are no download limits or restrictions and these are up 24/7/365.
Think of the discs as a backup in case all else fails! But definitely not necessary to use the software. You will also be sent a VinylMaster Program disc and case directly from Future Corporation who are located in Australia. This sale is for a perpetual software license provided on disc and via download (online 24/7/365) i.
Note: the license can easily be moved from one computer to another (for more information please see the FAQs below). If you experience any technical problems with downloading, activating or using the software please lodge a ticket at future support (search "futuresupport"). If you are in any doubt about whether or not your device is supported, please send a message. If you have lots of questions, please visit Future Corporation's FAQ page online (search "iifuture faq").
Yes (search "vinylmaster demo") on any search engine to download the demo. What's the difference between each level of VinylMaster? There are a lot of significant differences between each level, (search "vinylmasterltr") for a comprehensive features list and comparison guide. VinylMaster has over 5,000 direct drivers, (search "vinylmaster supported cutters") for supported brands of vinyl cutters. Is my Large Format Printer Supported?
Listings if you need a RIP. No, VinylMaster is Activated quickly and easily online - no more lost or broken Dongles! Is an Internet Connection always required? No, the only time you need an Internet connection is to Activate i.
Unlock the software and this can be done remotely from any computer - any connection will do! Can I use VinylMaster on more than One (1) Computer? You can install VinylMaster onto as many computers as you like and then design your work and save it off. However, if you want to output from a particular computer then it needs to be Activated and you get one Activation per license. Note: You can always Deactivate a computer and Activate another as many times as you like. No, this sale is for a perpetual license. How much does Tech Support cost? Tech Support is provided at NO Charge! How long do I get Tech Support for? Tech Support is for the life of the product and not 30 or 60 days like many other programs! Can I cut from the Demo! Yes, you can cut from the demo via the Add Cutter or Setup Wizard and after you've installed your Cutter's Driver... Once done you can then cut any of the sample cutfiles from the Vinyl Spooler. Yes, you get 2 x DVDs with a Guide in a Case delivered to your door for LTR/PRO/DSR/XPT and 1 DVD for CUT.
Can I Return the Software? Terms & Conditions of Sale. Please pay promptly for same/next day dispatch.
FEEDBACK: We pride ourselves on making sure each and every customer is satisfied after the sale is complete. We are a genuine online retailer. DIFFERENT LEVELS (VERSIONS): VinylMaster comes in many levels for various applications - please select your level wisely.
E&OE: While all care is taken with our listings, any errors or omissions in the item details are unintentional. The item "Viny Sign Software for Cutter Plotter Arch Vectorize & logo VinylMaster LTR" is in sale since Tuesday, November 20, 2018. This item is in the category "Business & Industrial\Printing & Graphic Arts\Plotters & Wide Format Printers". The seller is "graphicsware" and is located in Provo, Utah.
This item can be shipped worldwide.
Features: Vector Effects, Weld, Trace, Distortions
Operating System: Windows 10, 8, 7, Vista, XP (64/32bit)
Vinyl Cutter: All major makes and models supported
Product Level: For Craft, Hobby, Small Office, Home Office
Supported Cutters: 5000+ Cutter Drivers
Model: LTR V4 (Letter)
MPN: VMLXGV4USA
Brand: VinylMaster
Country/Region of Manufacture: United States
Shipping and Downloads: Downloads from US, Discs ship from Australia
Description: Vinyl Cutter Software for Craft and Hobby
Import and Export these formats: AI, DXF, EPS, JPG, PDF, PNG, SVG, TIFF
Cutter Technology Supported: ARMS, OPOS, CCD is supported
Output Examples: Shapes, signs, lettering, logos, decals, t-shirts
Font Formats: Supports TTF, OTF, Type 1 and Type 3 Fonts
Product Type: Sign maker, Sign making, Sign writers Software
Equipment Type: Vinyl Cutters & Engravers
Contents: Program DVD, Extras DVD, Quick Start Guide & PSN
Extras: 3600 Clipart, 5200 Fonts, 10000 Logos, Road Signs